Last Updated on September 10, 2018 by Dr M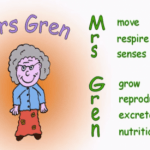 Mnemonics (the 'm' is silent) are useful rhymes or memorable phrases, or even just a series of letters, ideas, or associations that assist in remembering something. The trick is for the mnemonic itself to be something memorable that helps you with recall.
​
For example, the ABPI learning materials provide you with MRS GREN (2.1.1 Life processes) as a way to remember the 7 functions performed by all living things, and demonstrated by all living cells:-
M
R
S
G
R
E
N


Movement
Respiration
Sensitivity
Growth
Reproduction
Excretion
Nutrition
You might remember another well-known mnemonic from childhood describing the order of colours seen in the rainbow: –
​
Richard
Of
York
Gave
Battle
In
Vain

Red

Orange

Yellow

Green

Blue

Indigo

Violet
By repeating regularly, such phrases and associations aid in recalling the information they represent or code for.There's also a fairly well known mnemonic for the 8 pituitary gland hormones that my students find helpful when revising the endocrine system (unit 3, chapter 2).
Want to know what it is?
Sign up to the ABPI Exam Toolkit today, then send me an email with the title: "Mnemonic for the 8 pituitary gland hormones". I'll send you the link to the mnemonic, along with other tips and free lessons, on a regular basis. Help is on hand. So, why not move your revision forward?
If you have a mnemonic of your own for this, or for any of the other ABPI exam topics, then please share in the comments.
Cheers,
Marie